Meiravi Quartet
Concert Tickets
Wednesday, April 5, 2017 at 7:30pm
Penn State Abington Sutherland Concert Hall
Sutherland Building, Room 9
1600 Woodland Road
Abington, PA 19001
Shostakovich and Beyond with special guest, Dr. Roy Robson, Dean of Arts and Humanities
Nocella: Prelude to Grynszpan
Shostakovich: String Quartet No.1 in C Major
Gershwin: Three Preludes
Nocella: Ninth Street Festival Overture (World Premiere)
Piazzola: Libertango
Concert Tickets (free)
New CD available from the Meiravi Quartet: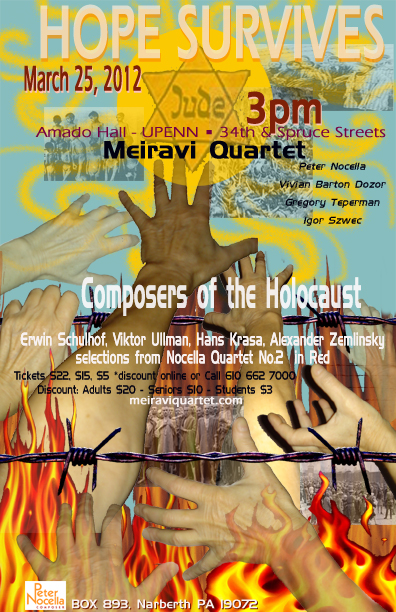 Hope Survives!
Chamber Music of Schulhoff, Krasa, Ullmann, Zemlinsky, and Nocella
Price: $15
Debut CD
Peter Nocella
String Quartet No. 1 in Blue
Performed by Meiravi Quartet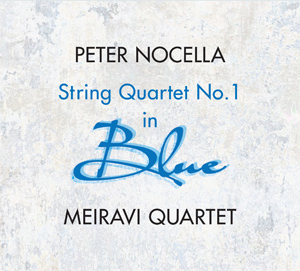 Order the Meiravi Quartet's album, released October 10, 2011.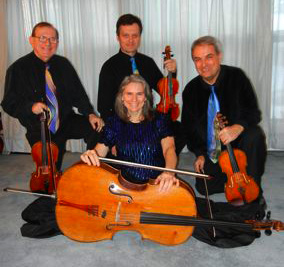 The Meiravi Quartet members have impressive individual resumes and performing backgrounds which they each bring enthusiastically to the ensemble, contributing to the Quartet's rich musicality and vibrant sound. The Quartet is unusual, not only because of its composer-in-residence, Peter Nocella, but also because the group is experienced in playing both the classical chamber music repertoire as well as music from a variety of genres—and always with a healthy sampling of music from the 20th and 21st centuries. Concerts might offer music from the world of jazz, as well as global music—a tango from Argentina, a folk song from Alaska's Inuits, or a Chinese lullaby. Every performance will include some musical surprises—and at least one work by an American composer, either from our musical past, the modern repertoire, or a newly commissioned work.
Summer 2012 Newsletter (PDF: 160 KB / 4 pages)
Videos
Peter Nocella: String Quartet No.1 in Blue, Movement II
Peter Nocella: String Quartet No.2 in Red, Movement I
Member Bios
Igor Szwec is a highly regarded concertmaster and violin soloist featured in numerous concert appearances and recordings. As a boy of twelve he won the Philadelphia Youth Orchestra Competition and soloed with the Philadelphia Orchestra. Later he was awarded a full scholarship to the Philadelphia Musical Academy. He studied violin with Jaro Megasuik and Karen Tuttle. Igor, for many years was a member of the highly regarded Concerto Soloists. He performs regularly with such ensembles as the Philadelphia Chamber Orchestra, Academy of Vocal Arts, Orchestra 2001, Opera Philadelphia, Pennsylvania Ballet Company. Also, for sixteen years, Igor was concert master for the Philly Pops. While living in Ottawa, Canada, he was a member of the prestigious National Arts Centre Orchestra and of the Constable String Quartet. Upon returning to Philadelphia, He often appeared as a soloist with the Philadelphia Concerto Soloists, and is a preferred recording studio concertmaster for such artists as Janet Jackson, Jennifer Lopez, Justin Timberlake, and Will Smith. Igor has also performed with such notable musicians as cellist, Bernard Greenhouse, pianist, Menahem Pressler, hornist, John Barrows, violist, Raphael Hillyer of the Juillard String Quartet, and violist Denys Koromzai of the Hungarian String Quartet. Additionally, he has shared the stage with Iona Brown, well-known violin soloist and concertmaster with St. Martins in the Field, and has performed under the baton of Lorin Maazel, Ricardo Muti, Charles Dutoit, Yehudi Menuhin, JoAnn Falletta, and Max Rudolf.
Gregory Teperman's musicality, sense of style, and musical joie de vivre is evident whenever he performs. In demand as a concertmaster and violin soloist, for many years Gregory has performed with the Opera Company of Philadelphia, Pennsylvania Ballet Company, and for numerous musical productions at the Forrest and Walnut Street theaters. He has also performed with the Chamber Music Society of Philadelphia, and the American Society of Ancient Instruments. Currently a member of the AVA and the Philly Pops Orchestras, he is also concertmaster for Broadway at the Academy and for the Walnut Street Theatre. In 1984-85 Gregory served as both the assistant concertmaster of the Trenton Symphony and concertmaster for The Bucks County Symphony. Before immigrating to the United States in 1982, he performed with the Chamber Orchestra of Radio and Television Company, USSR, Moscow Symphony Orchestra under Director V. Dudarov, Moldavian Philharmonic Symphony Orchestra under the baton of renowned, music director, T.Gurtovoy, and the University Symphony Orchestra, for whom he was concertmaster. Gregory studied in Russia at the Moscow Conservatory and at Moldavian University of Arts, and has performed with Pavarotti, Carreras, The Three Tenors as well as such popular artists as Johnny Mathis, Frank Sinatra, and Smokey Robinson, Among other popular recording artists, he has recorded with Jennifer Lopez and Justin Timberlake. Among others, Gregory has also performed under the batons of Ricardo Muti, Timophei Gurtovoi, Veronica Dudarov, Max Rudolf, Gerard Schwarz, and Christopher Macatsoris.
Peter Nocella is a multi-talented and gifted violist and composer with broad based musical knowledge and experience. For more information about Peter's extensive musical background, consult his bio.
Vivian Barton Dozor, noted for her warm, beautiful cello sound and a remarkably refined musical sensibility, has performed with such distinguished artists as Yehudi Menuhin, Alexander Schneider, and Felix Galimir. A graduate of Curtis Institute of Music and winner of the top cello prize at the Hudson Valley Competition, her diverse musical activities have included concerts with the Philadelphia Orchestra, Brandenburg Ensemble, Marlboro Music Festival, Orpheus Chamber Orchestra, Opera Company of Philadelphia, Pennsylvania Ballet, Santa Fe Opera, West Jersey Chamber Music Society, Orchestra 2001, Vox Ama Deus, Philomel Baroque Ensemble, Brandywine Baroque,Tempesta di Mare, Pro Musica Rara,Tafelmusik, Apollo's Fire, and the American Society of Ancient Instruments, of which she is music director. Vivian also attended the International Musicians' Seminar in Prussia Cove, Cornwall England, and has performed in concert halls throughout the United States, Europe, Asia, and South America, among which include Carnegie Hall, Avery Fisher Hall, Symphony Hall in Boston, and Orchestra Hall in Chicago A faculty member of Princeton University and Community College of Philadelphia, Vivian has recorded on, among others, the RCA, Dorian, and Polygram labels.