Dr. Peter Nocella was born into a musical family which includes noted Philadelphia composer, Joseph Nocella, www.josephnocella.com. He attended South Philadelphia High School, then known for its exceptional music program. During that time, while concertmaster of the All-City Orchestra, he performed under Leopold Stokowski. Upon graduation, Nocella accepted a Philadelphia School Board Scholarship to Philadelphia Musical Academy. During his college years, Nocella won fellowships to the Tanglewood Music Center and to the Temple-Ambler Music Institute. After receiving his Bachelors in Music with a double major in composition and viola, he pursued his Masters and Doctoral degrees at Temple University.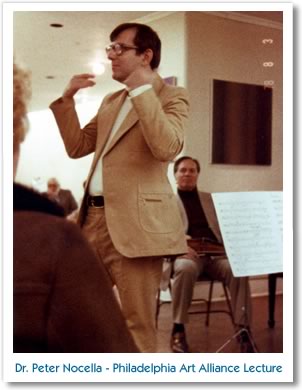 Nocella's doctoral dissertation was unique in musical academia in simultaneously being a commission from the Pennsylvania Ballet Company. The ballet, Poems of Love and the Seasons, was favorably reviewed in the New York Times (3/2/1979), Philadelphia Inquirer, and Dance Magazine which all helped, thereby, to gently persuade Temple's Doctoral Committee to approve his dissertation! Nocella studied viola with Leonard Mogill, associate principal violist of the Philadelphia Orchestra. He studied composition with Michael White (Juilliard), Clifford Taylor (Temple), Robert P. Morgan (University of Chicago) and Joseph Castaldo (University of the Arts). He also participated in graduate seminars with Vincent Persichetti, George Rochberg, and Roger Sessions.
As a composer, Nocella has had numerous commissions including the American Ballet Theater, Pennsylvania Ballet, Milwaukee Ballet, Cincinnati Ballet, Atlantic Symphony Orchestra,157th US Army Infantry Brigade, 307th Army Band, Philadelphia Composers Alliance, Pennsylvania Music Teachers Association, The Commission Project, Pennsylvania Orchestra, Cherry Hill Mayor's Fund, John Thyhsen, Nittany Mountain Arts Festival, Stockton Chamber Players, Le Nouveau Ensemble, as well as two Philadelphia Orchestra members, Edna Phillips and Anthony Orlando. He has composed music under grants from such as the Rockefeller Foundation, National Endowment for the Arts, Dietrich Foundation, Pennsylvania Arts Council, Penn State Dean of Arts and Architecture Fund, New Jersey Arts Council, Atlantic City Town Council, and the Swedish Heritage Foundation. Nocella's music is published by E.C. Schirmer. Inc. His music is also included in the Edwin A. Fleisher Orchestral Music Collection at the Philadelphia Free Library.
As a violist, Nocella has performed with such institutions as the Philadelphia Orchestra, Boston Symphony, Philly Pops, Royal Ballet, New York City Ballet, Pennsylvania Ballet, Meiravi Quartet, Opera Philadelphia, Philadelphia Lyric Opera, and under such conductors as Leopold Stokowski, Eugene Ormandy, Eric Leinsdorf, Sir Adrian Boult, Aaron Copland, and Sir Wilfred Pelletier. Nocella has also performed, recorded, and toured with such notable popular artists as Frank Sinatra, Johnny Mathis, Smokey Robinson, Burt Bacharach, Sammy Davis Jr., and numerous others.
For fifteen years (1974-89) Nocella composed and arranged scores for the American Ballet Theater, Pennsylvania Ballet, Milwaukee Ballet, Cincinnati Ballet, and the Swedish State Ballet in Malmo. Notable choreographers for whom Peter has composed include Mikhail Baryshnikov, Benjamin Harkarvy, Jean-Paul Comelin, Peter Anastos, Robert Weiss, and Lar Lubovitch.
In the 1990's Nocella composed, among other works, The Green Violinist, based on the art of Marc Chagall and Concerto for Viola and String Orchestra, premiered by acclaimed violist, Karen Dreyfus. During this time, he also served as Music Director of the Atlantic Symphony Orchestra and the Atlantic City Boy's Choir. In 1998, Dr. Nocella was a principal in establishing a scholarship at Temple University in memory of his teacher and mentor, Leonard Mogill.
In 2000, Nocella was commissioned by the Holy Family of Nazareth, an international religious order, to compose Missa Brevis for premier at the Vatican during a special beatification ceremony celebrated by Pope John Paul II. In 2001, he was commissioned by the American Swedish Historical Museum to compose Eight Candles in the Darkness in celebration of the museum's 75th anniversary. In 2003, Nocella was commissioned to compose Rose Tree Concerto by The Commissioning Project of Rochester, New York. In 2008, he was commissioned by the Nazareth Chorale to compose Psalm 98.
In 2010, Nocella was a founding member of the Meiravi Quartet, an ensemble devoted to giving superlative performances of the traditional and contemporary repertoire. Since its inception the Meiravi Quartet has premiered his String Quartet No.1 in Blue, String Quartet No.2 in Red, String Quartet No.3 in Green, and String Quartet No.4, "Winter Journal". in 2017, He completed String Quartet No.5, "Summer Journal". More recently, he has completed Wood Odors, a setting of Walt Whitman's poem for female choir and harp in celebration of Whitman's bicentenary in 2019, slated to be performed at Carnegie Hall and in several Philadelphia venues. He is also continuing work on the opera, Grynszpan, based on events that preceded the Holocaust.
Nocella has been a member of the American Society of Composers and Publishers, National Academy of Recording Arts and Sciences, American Federation of Musicians, National Association of Composers-USA, and the College Music Society. For 20 years Nocella taught music theory, music history, strings, and directed ensembles at Penn State University and at Nazareth Academy. Currently he teaches music at Nazareth Academy while also maintaining an active composer/performer schedule.